This week, on Tuesday and Wednesday, I had my studio closed so I could visit others with my Mum, another art enthusiast. This is always a treat and I met so many interesting folk! Just wish I had more time to visit everyone. Here is my summary of my first day of visits.
Tuesday 9th
– We decided to head up towards Comrie, and started with Venue 101, the Showman's Carriage at Cultybraggan Army Camp. Now this appealed to me on a couple of levels; the beautiful drive from Braco to Comrie, the fact it was in a wee caravan thing, and the army camp! The work in the Carriage was absolutely outstanding, with painterly, nostalgic pieces from Yvonne Spearing, to charming wee Tunnocks tea cake fishes from Jane Ross. I loved all of it and the range and quality of all the work was just fantastic, and catered to every price range. I was totally charmed. Its a small space but very attractively laid out. I also loved the painted game board tables (functional and retro) I also took the opportunity to snoop around Cultybraggan, which is such a cool place! Totally up my street and I enjoyed exploring round all the buildings.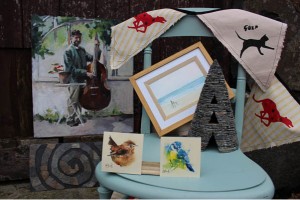 – After that I nipped over to Venue 106, Martin Ridley in Comrie, who is an established professional artist who paints wildlife. Oh. My. Goodness. What an interesting visit. His work was stunning, and we must have spent over an hour there talking to him. His approach is so considered, and the techniques he uses to create dynamic paintings are both clever and effective. His studio space was really interesting, with various bird wings and antlers and bits and pieces of wildlife and plants. He also has nest boxes for Swifts by his window!
Martin has a Facebook which you can keep up to date with work in progress HERE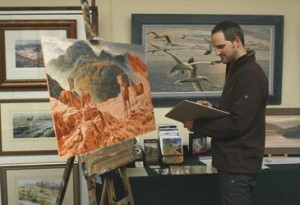 – We then headed onto Venue 94, Ronnie MacDonald's Cottage Studio. Another fantastic visit. Ronnie's work is abstract, and uses mixed media to create beautiful textured surfaces. I love work which is effective when one stands back and views it as a whole, but also upon closer inspection, an interesting surface adds an extra dimension and draws you into another level of appreciation. Gorgeous paintings, and truly a pleasure to chat to Ronnie (and his wife) His studio was enviable, not only the building itself but the pastoral location and breathtaking garden, and we came away extremely glad we visited.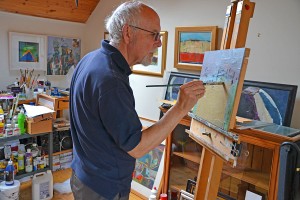 – The last studio we had time for was Venue 73, Ceri White Studios in Dunning. She has a cute pottery shed in her garden, which was filled was lovely wee pots, tiles, and all sorts of delightful ceramic pieces. Had a great visit chatting to Ceri, her work is charming, with jewel-like colours and delightfully lopsided small cactus pots and pebbles. Really individual and absolutely perfect for gifts (or your own home).
You can "like" her studio on Facebook HERE to keep up to date with her work.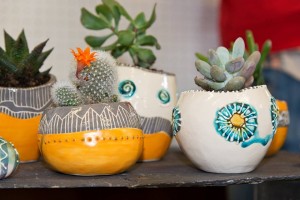 Thank you for reading! My Wednesday travels coming soon…
P.S. Images found via google search- contact me if you'd like credited for them, or if you'd like me to take them down.
P.P.S. This is not a sponsored post and the opinions are my own ;)