Here continues my summary of the studios I visited during my two days off POS 2014 with my trusty companion and art critic: Mum.
Wednesday 10th
– My second day of exploring what Perthshire has to offer (in an extremely limited time) started near Huntingtower Castle, Venue 76, Yvonne Hair. We wandered down a path to a green expanse, surrounded by trees, with a gorgeous workspace sitting amongst it all. Again I found myself immensely jealous of the garden studio, such an idyllic setting! Yvonne greeted us with welcome cups of tea and we talked to her about her work and approach. I absolutely loved her soft pastels, which ranged from snowy shores to gentle glens and serene lochs, all very atmospheric. She had larger oil works with an unusual, very still, feel to them, a calmness which I found very effective and complimented her collection of Huntingtower Castle pieces, all in different weather and lights. Lovely work and very reasonably priced, all presented beautifully in her enviable studio.
You can follow Yvonne on Facebook HERE to keep up to date with her work.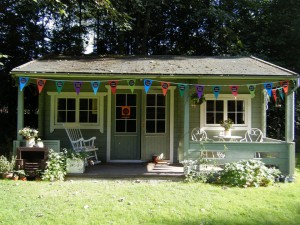 – We then headed into Perth, to near the Black Watch Museum, to Venue 79, Hugh Maxwell's Just Drifting. Hugh selects pieces of scavenge from his vast (VAST) collection of driftwood, broken pottery, shells, etc, each weather worn and unique. He then uses these found objects in a very painterly manner, to create organic stars, hearts, fishes and mirrors, each with it's own unique flow. It's hard to choose a highlight of our visit, between his remarkable home, with beach combed objects in every corner, and one room wallpapered entirely with vintage maps of the Outer Hebrides and Shetland! But his studio has to been seen to be believed, with meticulously organised stock in every corner. An artist's paradise. Another thoroughly enjoyable visit with more fantastic work.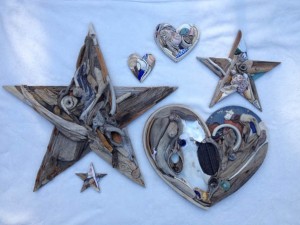 – Hugh pointed us round the corned to Venue 78, Balhousie Studio, which was open despite the brochure saying otherwise, for which we were very glad! Rosemary Bassett is an artist who works in a variety of mediums, from waxes and oils to collage and all sorts of mixed media. Her work is incredibly tactile and her range versatile, with collections inspired by many subjects- her various travels, a residency in India, and pieces painted on the West Coast of Scotland and far too many more influences to mention. Her training from Leith College of Art has informed her approach to the wide range of themes, and I was really impressed by the confident freeness of technique she demonstrates. Really interesting and stunning work. Our tour of Rosemary's work, set in her beautiful home, was a very pleasant surprise indeed, and a lovely way to round off our whistle-stop tour of Perth.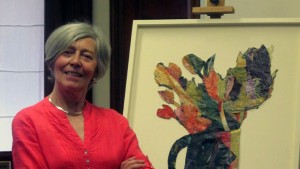 Another great day and sadly the last  :( As my first foray into the world of detailing my artistic travels, I have learned a few things; next time bring a camera, leave time for more studios and bring bottled water because talking so much is thirsty work! That's probably my own fault though.. Also I'm glad that I had my experienced chauffeur to drive me back to Dunblane so I could conk out in the car. I don't know I'm born.
P.S. As with my Tuesday post, images are scavenged from Google and Facebook. Please let me know if you would like to be credited, or have your picture taken down :)